Many homeowners find themselves wondering just how frequently they should redecorate their home. There are a number of things to consider when taking on a task of this size as there is a lot that goes into decorating. If you are considering doing more than adding a fresh coat of paint to your living room, then you need to read today's post which will provide the tips and advice you need to consider before embarking on a redecorating project for your bedroom or living room. Be sure to contact Kathy Gordon Interiors in High Point for all of your living room furniture and bedroom design needs.
Bedrooms
When it comes to the bedrooms in your home, you should consider redecorating them about every three to four years. Because the trends are always changing, these rooms can start to look outdated fairly quickly. While you may not completely renovate the room, you should at least change your bedding and the color scheme of the room. In fact, your new choice of bedding could be the inspiration you need to guide the color scheme for the rest of the bedroom. Another aspect to consider in a bedroom is the flexibility of any theme. For example, if you have a younger child, a lot will change for them in a short period of time. Things they were interested in when they were five are not likely to interest them when they are nine. Choose an overall design or color for these rooms that will not be overly difficult to change and update to keep up with the changes in your family's life.

Living Rooms
While updating is important, you don't have to update everything all at once. Many people consider what a new look might do for their living room furniture, but then feel overwhelmed when they consider all of the decorating pieces that are needed to complete the look. Remember to take a breath and relax! If your living room furniture is in good condition and you still enjoy it, make those the pieces that stay and work on changing other home decor items around them. For example, changing the curtains, area rug, and throw pillows can create an entirely new look without the hassle of updating every piece in your living room. If you've recently updated the decor in this room, be sure to give it a fresh coat of paint. Little changes like smudges and fading from exposure to light gradually create a dull appearance in the paint that most of us don't notice. If your living room has gone more than two years without new paint, you will be pleasantly surprised at how much a fresh coat of paint will lighten the appearance of everything in the room!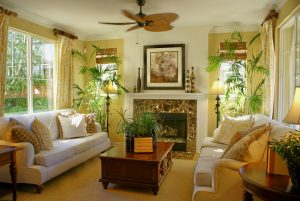 Updating your home's decor does not have to be a daunting task. With help from Kathy Gordon Interiors in High Point, you will have the advice and guidance you need to update the look of any room in your home. Be sure to contact her today and learn how she can help update your living room furniture and any other style questions you may have.