From shutters to blinds and Roman shades to drapes, there are many options for dressing the kitchen windows in your home. The style you choose, as well as the type of fabric and pattern, can be the lynchpin that pulls the entire room together. Kathy Gordon Interiors in High Point has years of experience in guiding clients towards the best window treatments to match their style preferences. Contact her today to learn how she can help you create the kitchen of your dreams.
Options are Great!
If you find that you like to have options available to you whenever possible, then you should consider purchasing top down bottom up shades. These window treatments can be raised, as well as lowered. They not only help to add variety to your kitchen, but will also come in handy as the sun moves over your house during the course of the day. Whether the sun is rising or setting, you will be able to adjust the blinds to fit your needs as you work in the kitchen.
Mix it Up!
If you like to pair different items for unique and interesting looks, consider introducing a layering effect into your kitchen by pairing a valance with matching Roman shades. This combination will help create a tailored look in your kitchen as well as provide complete control over the amount of light or shade that you need at any point during the day. Be sure to choose the same fabric for both pieces so that you can maintain unity in the overall look. When completed, this window treatment will be a stunning addition to your kitchen.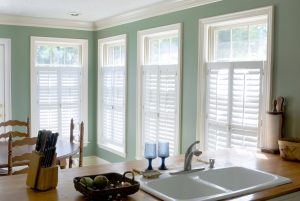 Traditional All the Way!
Many kitchens use some form of shutters, as this window treatment allows ample, natural light into the room. With their adjustable slats, overly bright light can be filtered out to create a more comfortable environment. Plantation shutters are the classic choice of shutters for kitchen windows, but you could also opt for cafe shutters which cover just the bottom portion of your windows to prevent you and your family from being blinded by the sun when sitting at the table.
Patterns are the Spice of Life!
The pattern you choose for your window treatments can transform your entire kitchen! From delicate charm to light and lively, and from French accent to exotic prints, the pattern you choose is up to you. Create the environment and feel you want with the right pattern. If the number of patterns available is making you feel a bit overwhelmed trying to pick just one, then be sure to call Kathy Gordon Interiors in High Point for expert advice and guidance.
There are many ways to dress up your kitchen windows and each option is completely dependent on your taste and personal style. We have touched on just a few of the treatment styles that you can elect for your kitchen. If your kitchen is in need of a makeover, then don't hesitate to contact Kathy today and schedule an appointment. You will be glad you did!