Kathy shows you how to get your yard Spring Ready in April 2017's Newsletter. Check out a great Foyer Refresh and Makeover, April's Color of the Month, Design 101 Terms, and see Kathy compete (and win!) in a High Point Furniture Competition!
Getting the Yard Ready
So, I'm looking outside my office window now that Spring has finally sprung and all I see is grass: in the cracks of the sidewalk, the driveway, and every darned piece of concrete around our house. Yikes! It's like gunk in your teeth and it's time to GET IT GONE! Let's work from front to back and get those places cleaned out and looking great!
---
Next, let's take a quick survey of your mailbox. Is it time to replace the post or the box? Repair or repaint the one you have? Lowe's has these in stock year-round: no excuses (and what a great way to brighten up your yard and create some curb appeal!)
April showers bring May flowers, but who says you have to wait? Garden centers all over are brimming over with annuals and perennials that are ready to make their home under your mailbox, along your walkways and in beds. GET TO IT!
---
Here's your excuse to get outside and play a little!
Let's check out the front porch – could yours use some love? There's nothing like a beautiful wreath and some potted flowers to greet you after a long day! A new mat, a good sweep, and clearing the cobwebs will help you welcome Spring and boost YOUR spirits!
Let's get going with our Spring projects and bring family and friends together at our home to celebrate the season IN STYLE!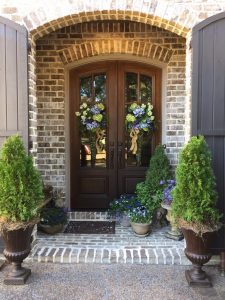 ---
Foyer Spring Refresh
Speaking of Spring Cleaning – this is a local client who I've been working with for a few years on projects in their home. We decided that it was time to tackle the foyer. What they had before simply wasn't working. Two kids, Mom and Dad, and a high traffic area with coats, book bags, shoes, and STUFF! So, my WONDERFUL, TALENTED, PATIENT husband, with my guidance, built a custom hall tree and storage bench.
With this came some great organization: We customized the baskets for everyone under the bench. The keys now all have a home on the "Family" sign, incoming and outgoing mail has it's own box, everyone has a place to put on and take off shoes, and hooks for EVERYTHING! We also, though you cant see it, added shelves into the entry closet, taking out a useless hanging rod, creating, again, a shelf for everyone to store off season items and extra school supplies. What are you working on? Send us your project and let's get to work on a refresh of your own – contact me today!
Design Terminology 101
As a little girl at my grandparents house, my grandmother suggested that I have a seat on her "Davenport". Mind you – I was MAYBE 10-12 years old. I'm surveying the room for a "Davenport", having no idea what it is or what I'm to do with it. My grandmother saw the mystified look on my face and pointed to the SOFA. AH HA! THIS is a "Davenport"? I'd never heard my mother use this term before. Your Davenport, your Couch, and your Sofa are ALL the same thing; BUT, you'll only hear it one way in the industry!
In the furniture world, your couch it is ALWAYS referred to as a sofa. So, if you're talking to your friends or industry professionals, use "Sofa" and let's lose the slang word, "COUCH" (the verdict's still out on Davenport, so use at your own risk!)
So, Grandma had a Davenport, but my Mom had a "Hassock". Because the Hassock lived in MY house, and matched the chair, I knew you put your feet up on it! It's now known as an "Ottoman". Hopefully, not many of you use the term "Hassock", but now you can see how much industry terminology evolves.
Stay tuned in next month's newsletter when we disambiguate more Design Terminology. It's so much easier to communicate with professionals when you know the language and I want to help YOU sound like an expert!
---
Color of the Month
DECOROUS AMBER
I stay up to date on color trends so that I can bring fresh perspectives to your home, whether haute hues, or classic color. Sherwin-Williams has selected their April 2017 Color of the Month: Decorous Amber a cozy, upscale hue that adds divine warmth to any living space!
---
Project of the Month
Braxton-Culler Design Competition 2017
Every year Braxton-Culler and Ashley Interiors hosts a contest exclusively for the Interior Design Trade in High Point, North Carolina. This year, I was selected to participate! Four teams compete head-to-head using only furniture and accessories from the Ashley Interiors showroom floor (each team starts with only a neutral sofa in their space!) All teams draw an address from a hat – ours was Savannah, GA. Teams then an hour to "shop" and ONLY a half-hour to design their space. Addresses for this year's competition included also included addresses from, Chicago, IL, Key West, FL, and Nantucket, MA.
Clock's started; pressures on. Myself and my assistant, Victoria ran like crazy with a shopping cart, like a bull in a china shop around the showroom floor. I loved our location because I love Savannah and all of its rich history. I really enjoyed blending the traditional accessories with neutral and playful fabrics to give our space a contemporary spin. You tell me: Did we pull it off? We shared what we did – share a project you're working on and we'd LOVE to feature YOU in one of our upcoming newsletters.